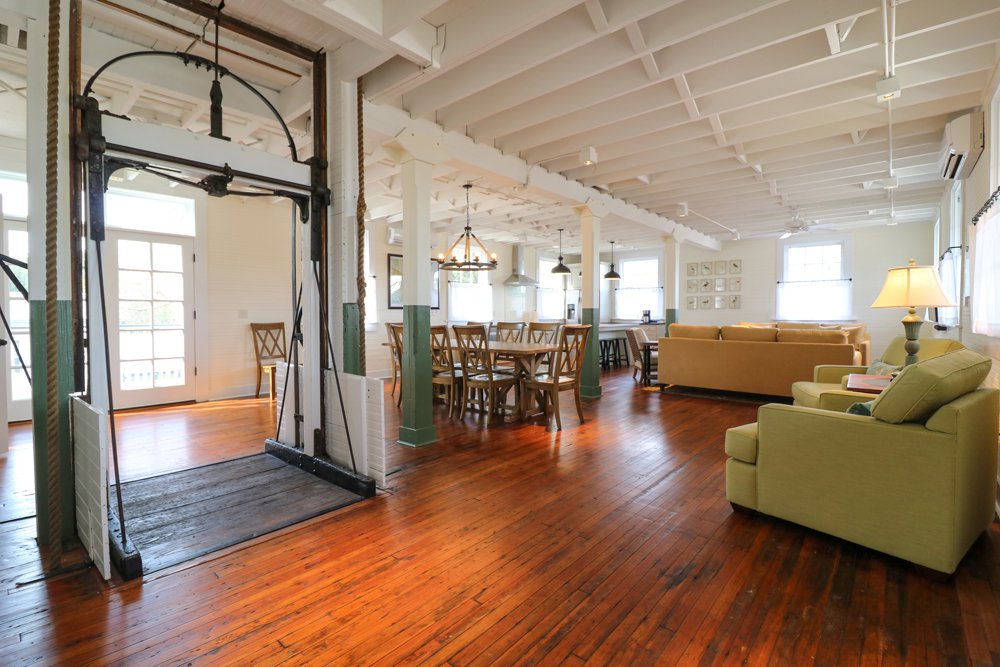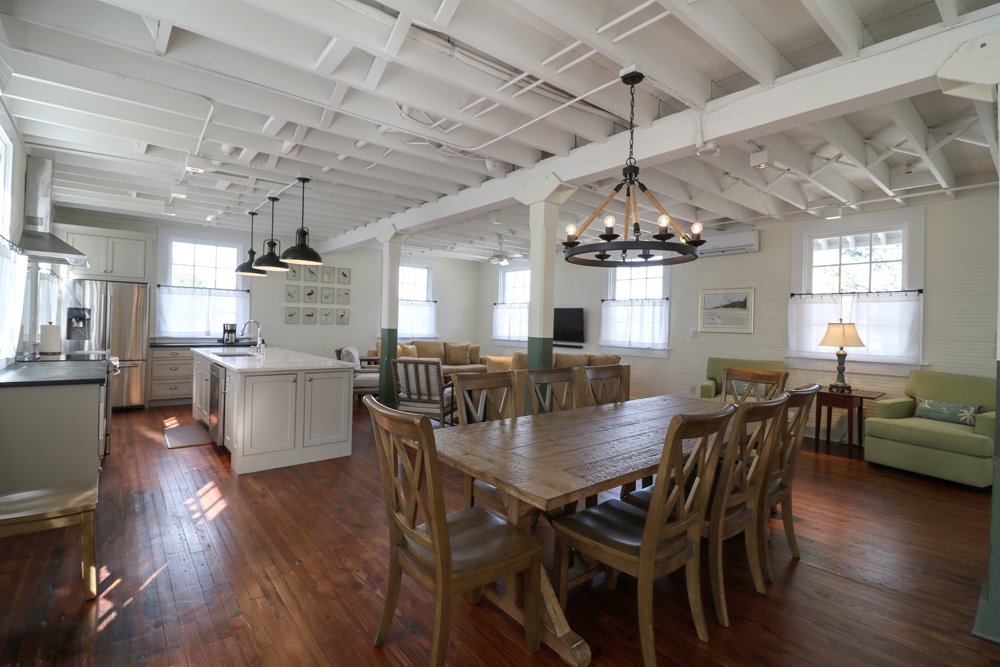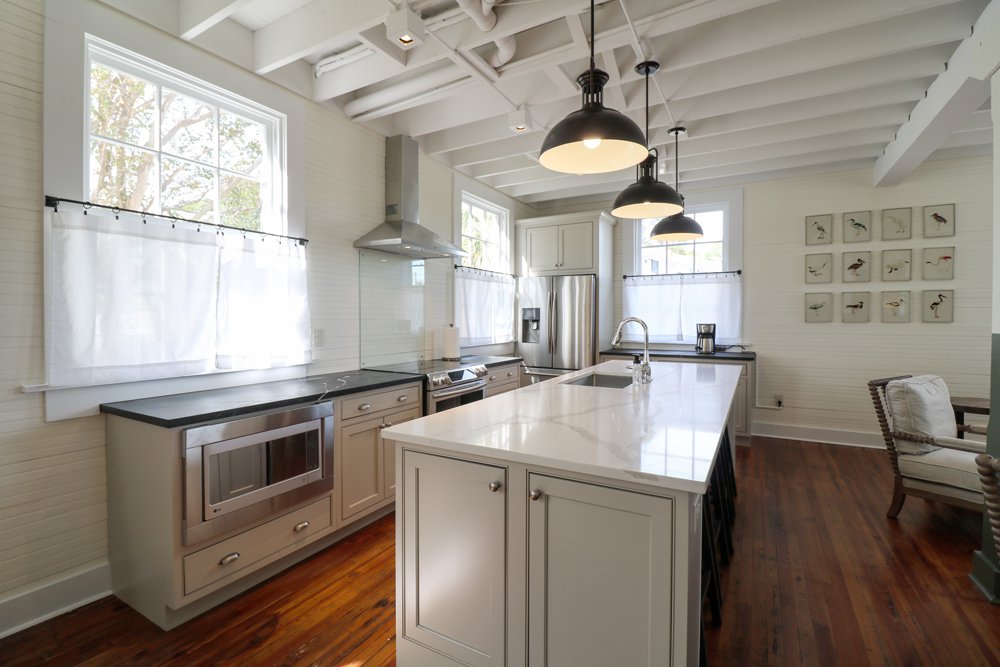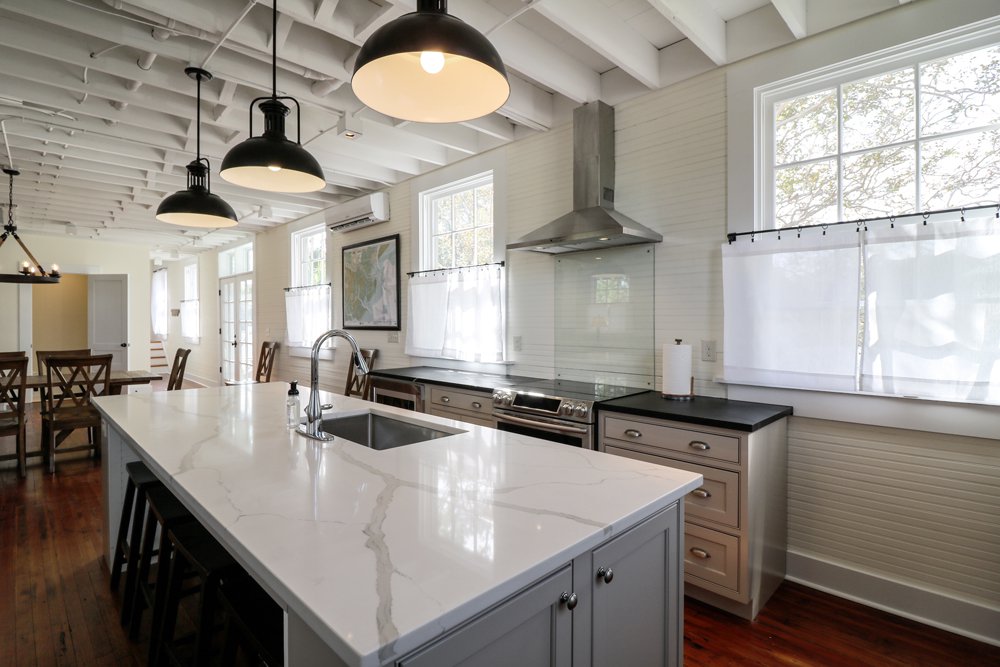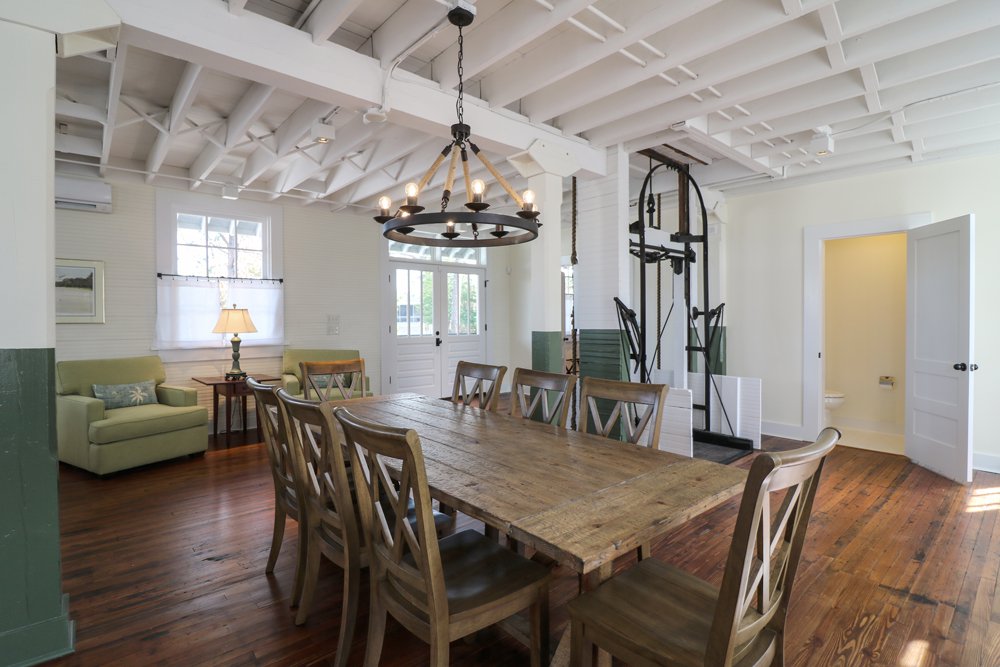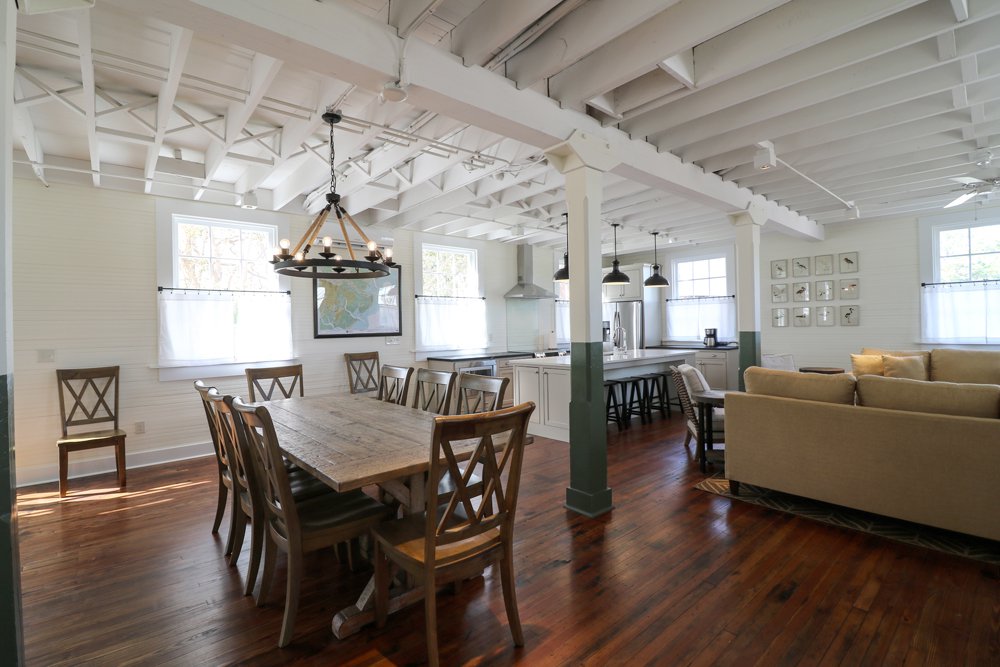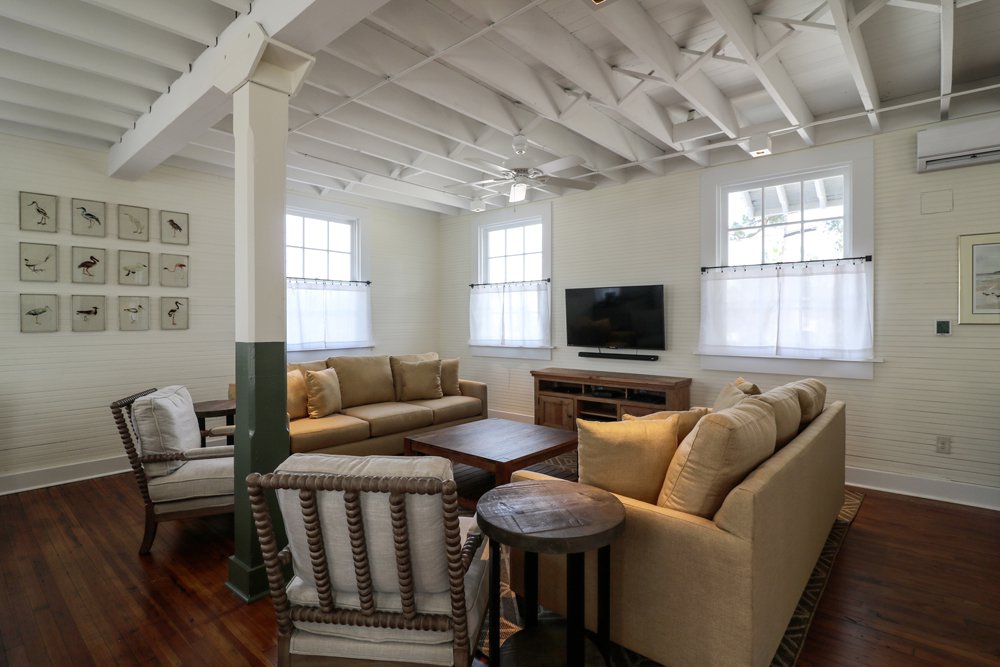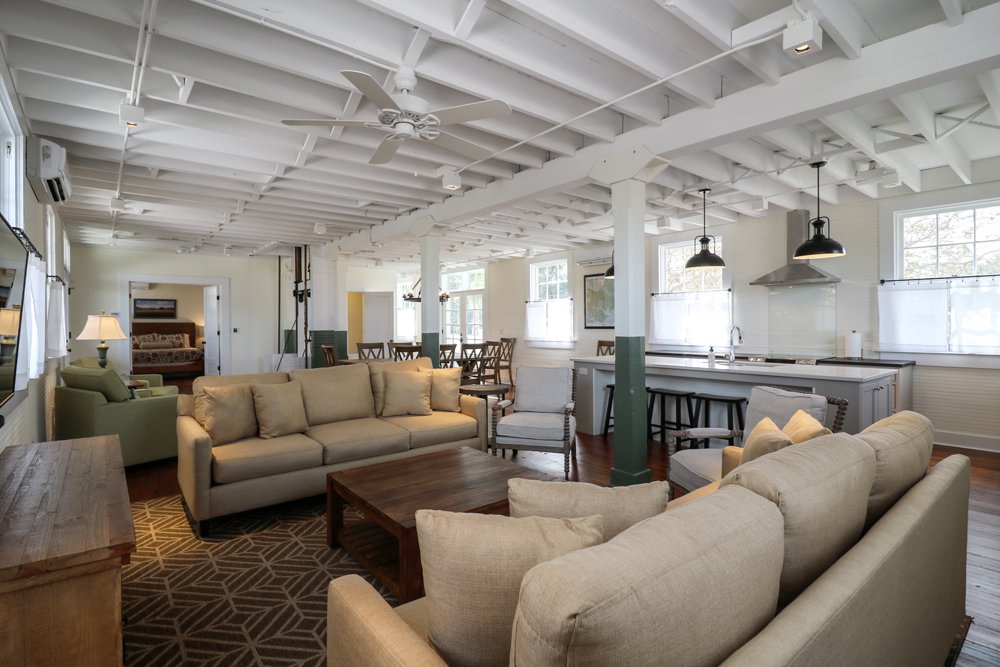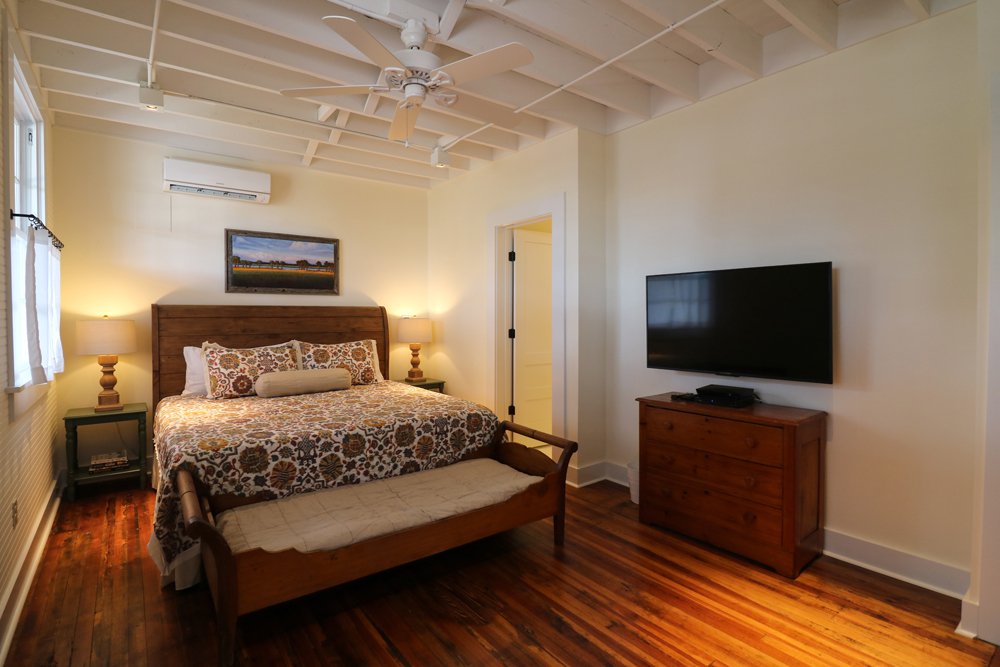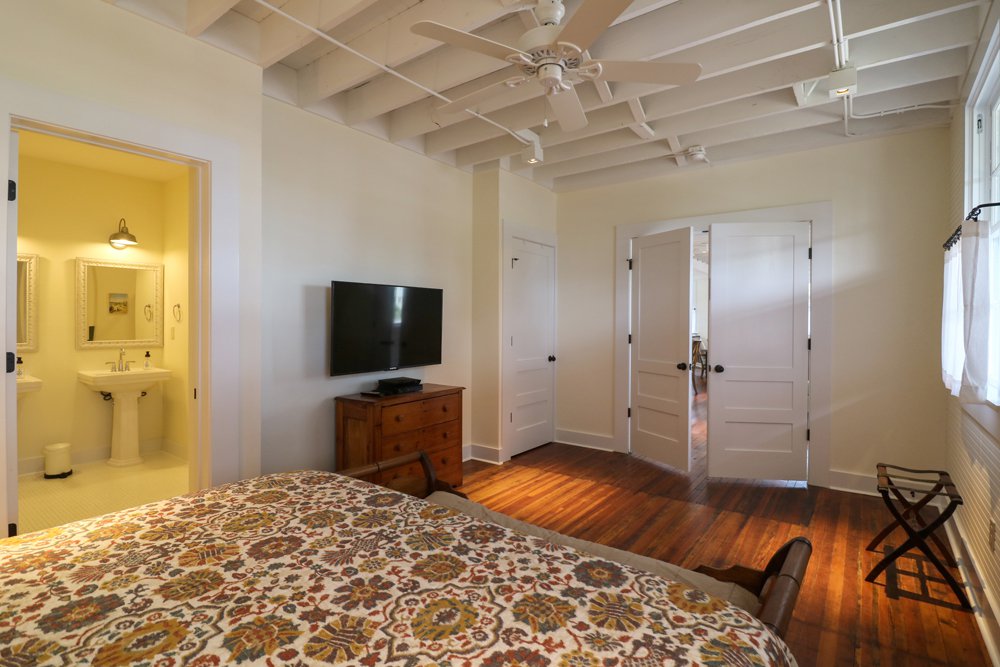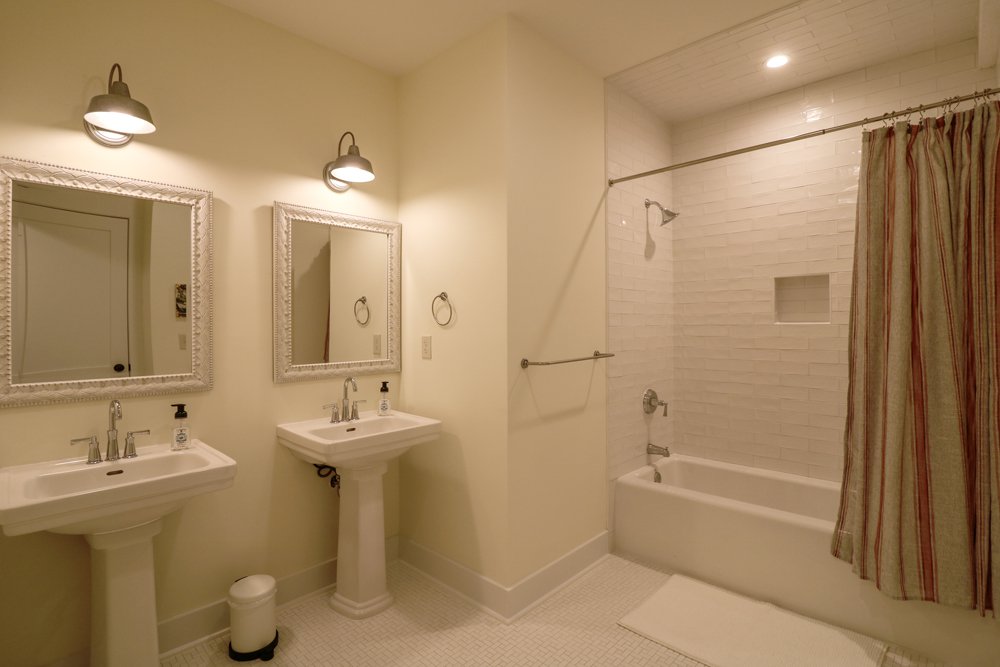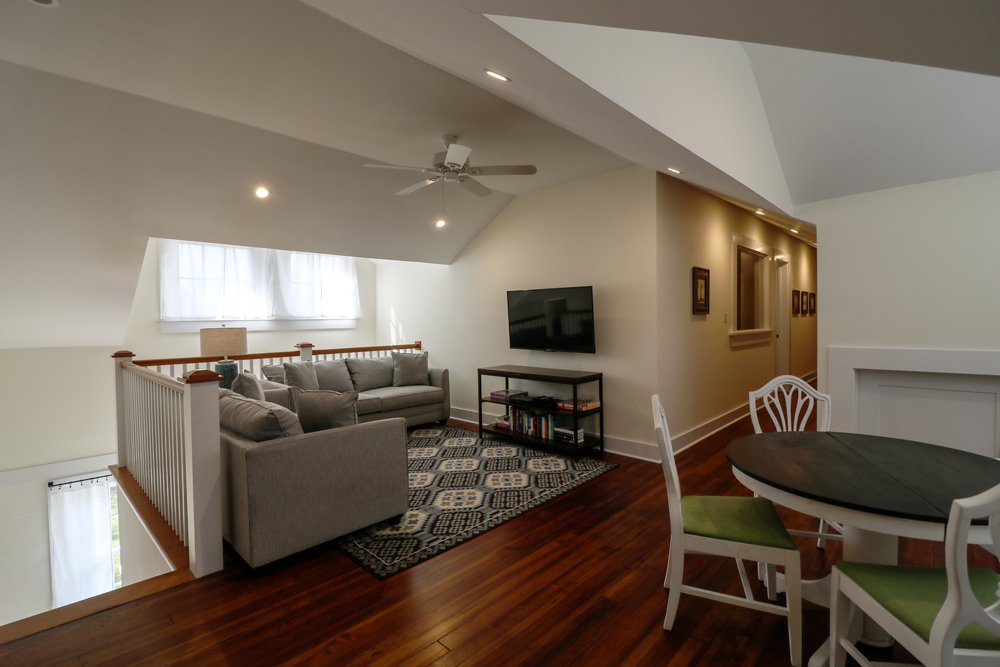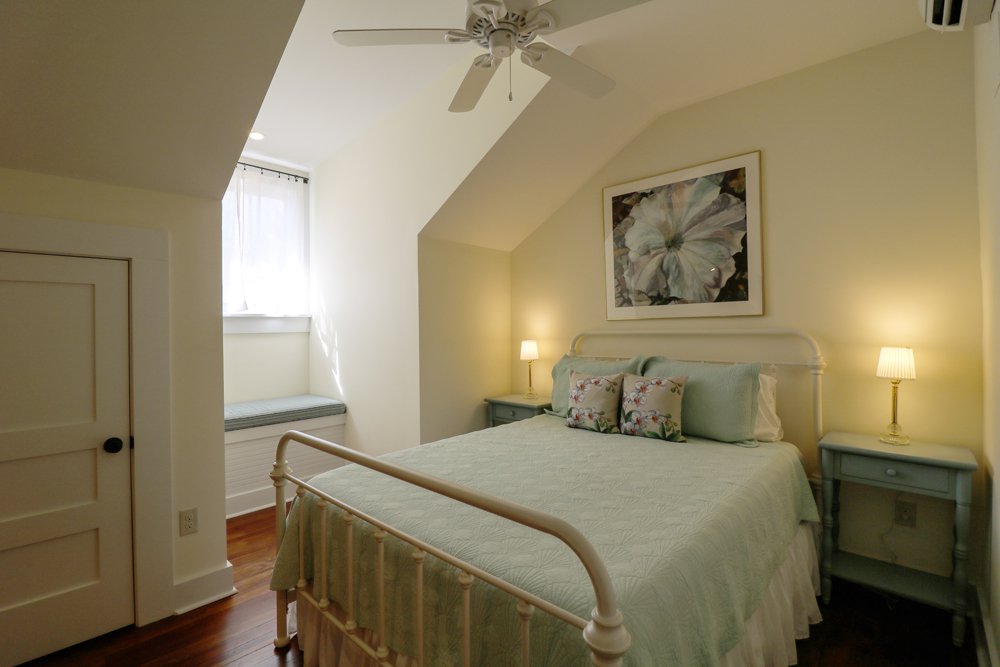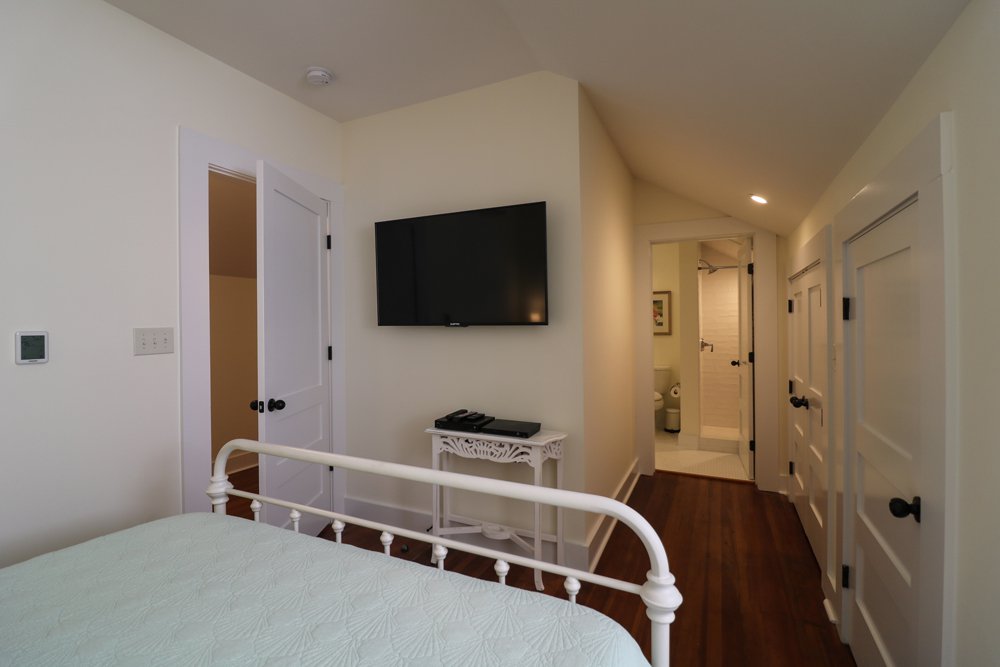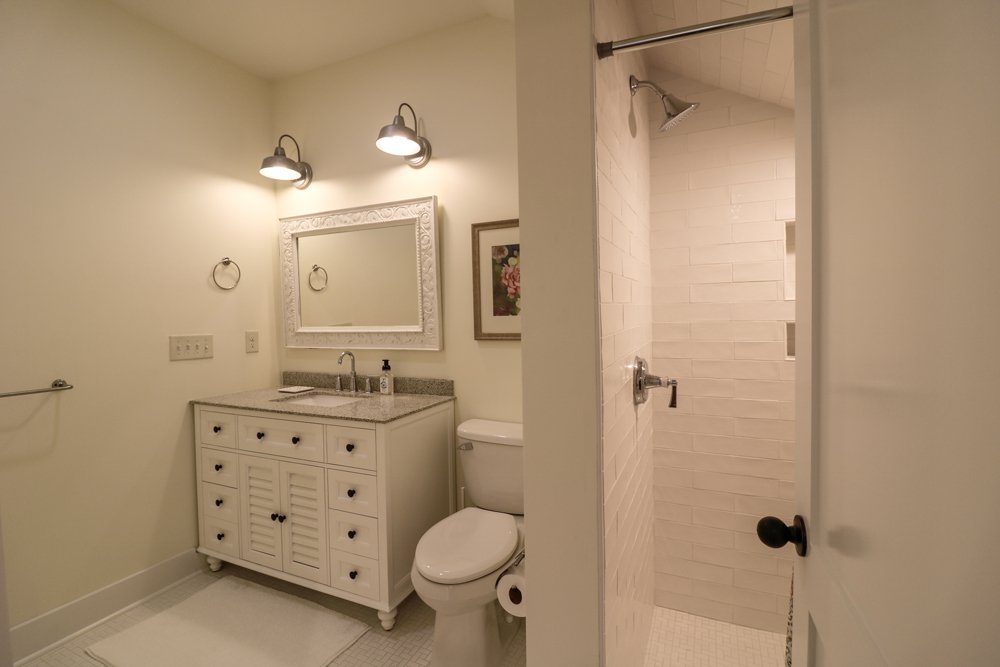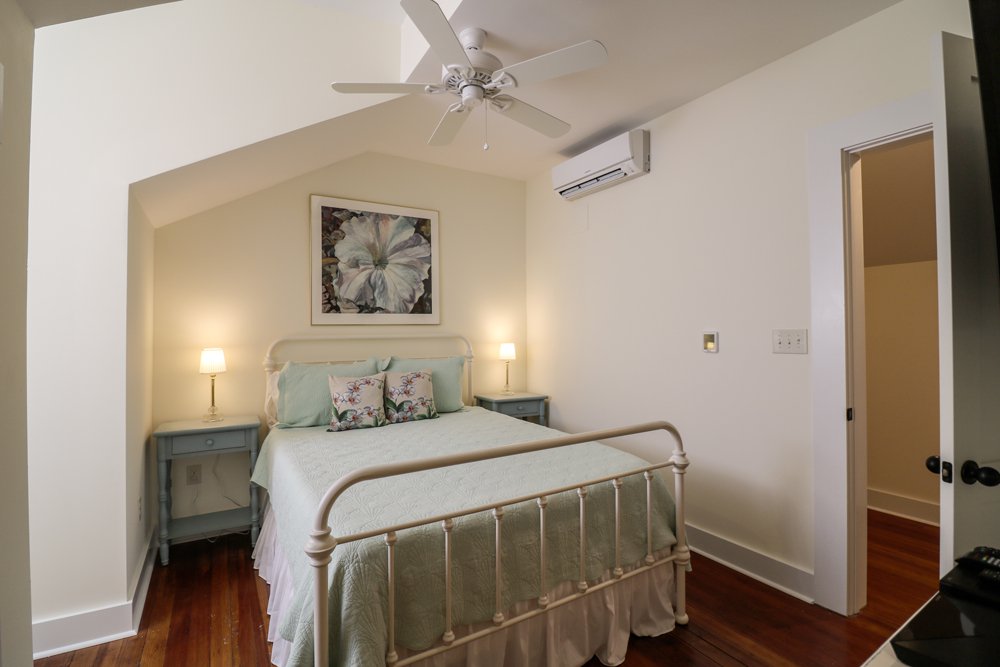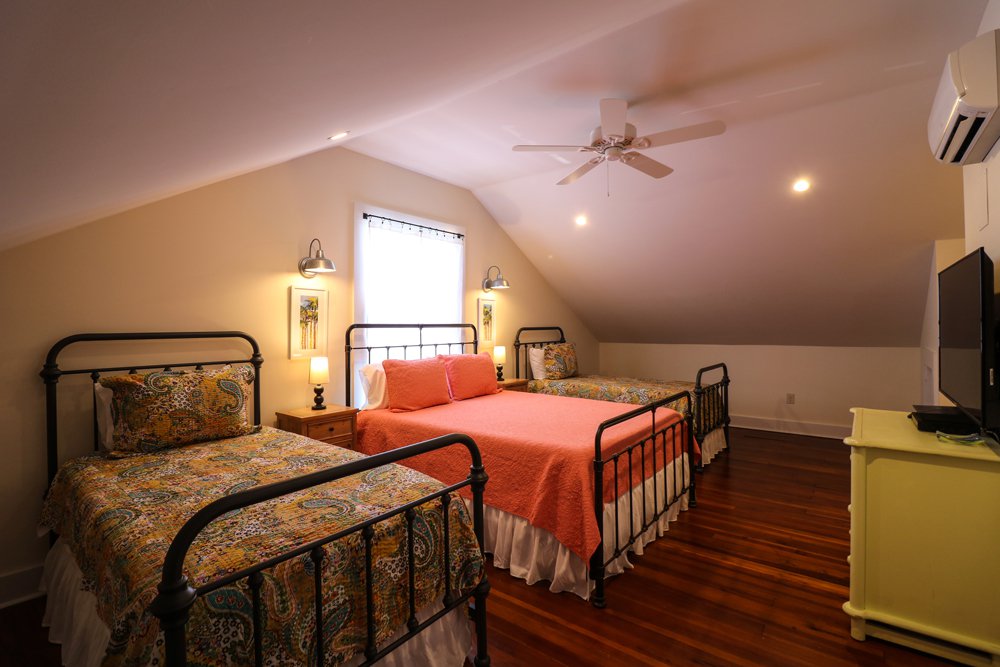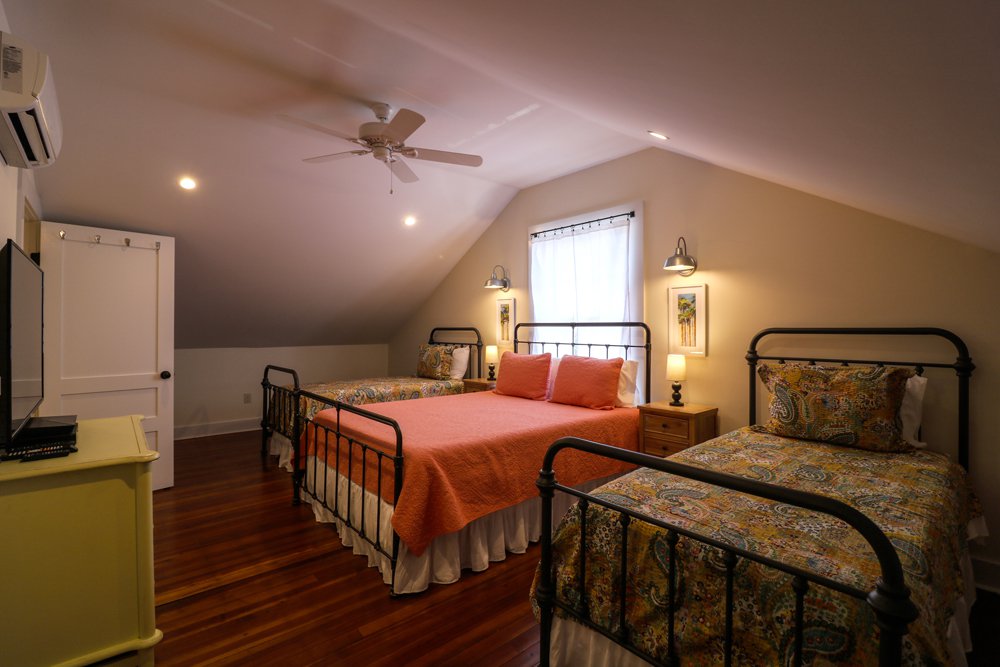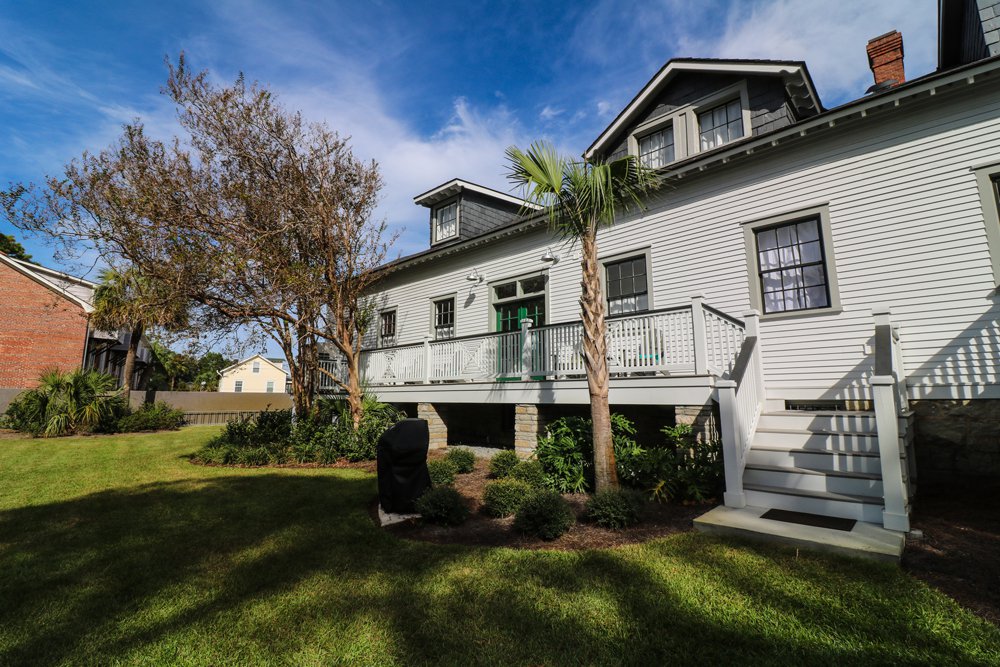 Once part of the Quartermaster's area on Tybee Island is the Tybee Island Commissary. In 2018, this Historic Tybee Island building was preserved and renovated to be the "Quarters at the Commissary" Vacation Rentals.
Quarters at the Commissary #3 is the largest of all 3 of these unique Vacation rentals. Quarters #3 has been able to refurbish many of the historic qualities that allowed Tybee's commissary to function as a storehouse for goods. The focal piece within the open floor plan of the Living space is the antique elevator that was used to transport items from the cellar to the middle floor of the Commissary. This open floor plan makes this area of the home perfect for entertaining and gatherings. The Living area has plenty of seating, a High definition TV, Blu ray player, and soundbar. The dining table is centrally located within the room. Adjacent to the dining table is the large renovated kitchen with all upgraded appliances and conveniences. This is a perfect area for preparing meals. Directly off of the dining area is the deck that overlooks the back Commissary courtyard. The gas grill is located at the base of the deck staircase. There is a half bath located conveniently located off of the Living area.
On the main level is Bedroom 1, this spacious King bed suite has a high definition TV, Blu ray player, and attached full bathroom.
A staircase will take you from the main living level to the comfortable 2nd floor. At the top of the staircase is an additional Living room area and game table. As you walk down the hallway you will pass a window that frames the original pulley system used to move large items from one floor to another.
Bedroom 2 is a Queen bedroom suite with window seat, and an attached full bathroom. At the end of the hallway is the large 3rd Bedroom with a Queen bed and two oversized Twin beds. This large suite has an attached full bathroom.
The outdoor area of the Quarters at the Commissary is just as unique and well kept as each of the separate Quarters. The grounds are maintained year-round and are home to several fruit trees. Each of the Quarters has its own separate furnished decks, gas grills, and parking spaces. On the grounds, you will find several bike racks for storing your bike while on Vacation!
The Quarters at the Commissary are steps from the Historic Tybee Lighthouse, a short walk to Tybee's north beach and within walking distance to a few restaurants. These Historic Vacation rentals are perfect for corporate retreats, family gatherings, and reunions. Tour Commissary Quarters #2 and Quarters #1

Free Business class WIFI Internet.
3 marked Parking spaces. 1 unmarked handicap Parking space.
High Definition TVs, Blu Ray player in every bedroom.